Here is a quick description of the difference a House Collar and a Martingale Collar.
Our Greyhound House Collars are made in a variety of widths. They are a 'One size fits all' and are designed to be worn at all times, with your hound's ID tags attached. They can be made up with brass or nickel fittings and your choice of colour for the satin lining. Please allow between 3 to 4 weeks for orders to be completed, but we do try to make this sooner.
On the left is a House Collar, it is also known as a 'Single Loop' collar. This type of collar is made up of one piece, sewn into a 'loop'. The house collar is designed to be worn all the time, with your dogs ID tags on it. They are best worn looser than a walking collar, for comfort, and sit around the base of the neck, leaving the top of the neck clear for their walking collar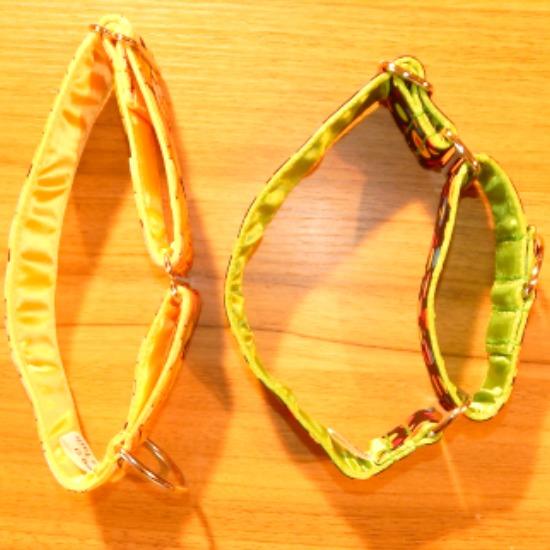 On the right is a Martingale Collar, sometimes known as a 'walking' collar. This type of collar is made up of two pieces. One piece goes around the neck, this is why we need an accurate neck measurement, the other piece is used to draw up the neck piece to tighten around the neck. These collars should ONLY be worn when you are out on a lead walk, there is a risk of them catching up on branches and other obstacles. The tightening mechanism could cause serious injury or worse.
Safety Notice: The 'Dog O Nine Tails' Martingale collar is designed to be used for walking only. There is always the risk of a martingale collar catching up on items both in the home and outside. Therefore, due to their tightening mechanism, we do not recommend these type of collars being left on when your dog is unattended or running off lead.
Collars available in 1 inch, 1.5 inch and 2 inch widths as house collars and 1.5 inch and 2 inch widths for full and reduced Martingale,
If you can't find what you are looking for, Contact us here!
Please check all collars and leads regularly for wear and tear.