How can it be March already?
11th March 2017
Welcome back, to this, my second blog post! As you can see, I don't bombard you with a lot of posts! This blogging lark is still a bit of a mystery to me, so please let me know how I'm doing, and any tips you can offer will be 'greytly' received x
Last weekend I had a bit of a give-away on my Facebook page, did you see it? Our whole household has been saving their spare pennies, which had grown steadily in the jar and it was time to give it away. Lots of you commented and nominated your favourite Greyhound Rescue group to be the recipient, but as with all competitions, there can only be one winner... Sheffield RGT were the lucky winners this time and I was able to send them a donation of £15 PLUS one of my 1 1/2" house collars. I can't wait to hear who wins the collar and hopefully they will send us a photo.
This week these four gorgeous new fabrics arrived, all the way from the USA, thanks to a very good friend of mine. I hope you like them, there will be some very fashionable dogs around this Summer! I haven't had anything with paws on for such a long time and these are so bright and cheerful! It's always a difficult decision, choosing which fabrics to buy, I have my favourites but I have to think outside the box, what will my customers like? However, when you look around at all the collar makers, around the world, we each have a 'style' that you can almost identify us by, which I find very fascinating! Have you ever noticed that?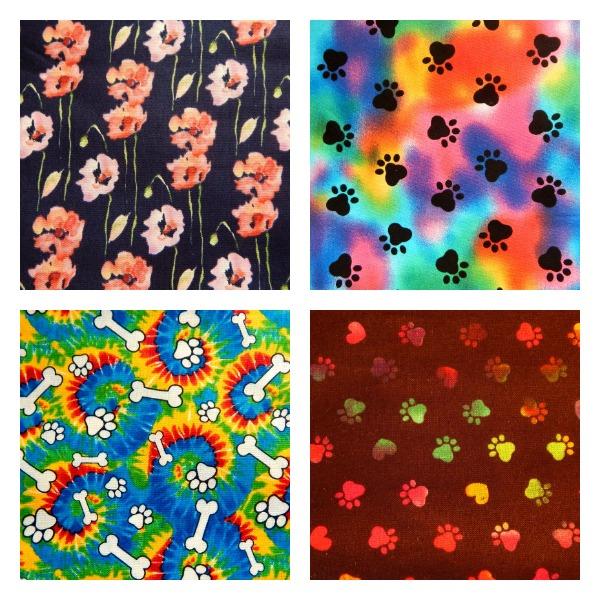 You'll find these listed on our website, as soon as I have them made up into collars, butt, you can pre-order if you like, just send me a message and I'll sort that for you.
I've had a busy old week, which has included several coffees with friends (shhhhhhhh!) which is lovely, but I've also been working on a new collar style to add to our range. I'm keeping it under wraps at the moment, while I do the 'quality control tests', to ensure it meets my high standards, which I know you expect from me! Brax has been helping with these tests, in between his beauty sleep of course, and as soon as it has his approval, I will reveal all! I bet that's got you all intrigued! You'll have to keep popping back to find out all about it.
Finally, I am booking up several shows around the country, I'll publish a list of these shortly, I'm just waiting for them to be confirmed. Obviously we'll have a stall at all our usual events but we also have some new dates and venues for this year! Hubby and I love getting out and about in the Summer, meeting old friends, catching up, and also meeting new folk and new hounds. Fingers crossed for some warm, dry weather!
Well, I hope you've enjoyed reading this entry, please let me know what you think!
Lisa and hounds